Kokoro ga Sakebitagatterunda BD Subtitle Indonesia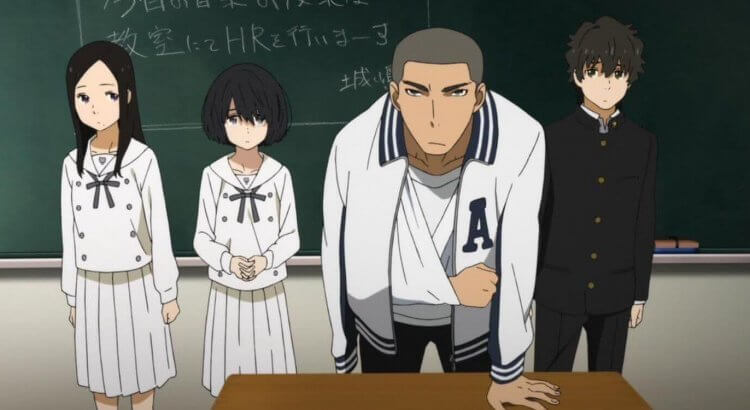 Anime Detail
Judul Anime Kokoro ga Sakebitagatterunda.
Judul Alternatif The Anthem of the Heart
Tipe Anime Movie
Status Anime Completed
Jumlah Episode 1
Musim Rilis Tidak Diketahui
Tanggal Rilis Mei 20th, 2020
StudioA-1 Pictures
Durasi per Episode 1 hr. 59 min.
Genre Romance, School
Skor 8.15
Dilihat 8795 Dilihat
Cerita berlatar di sebuah kota di Jepang bernama Chichibu, di mana cerita berpusat pada seorang gadis muda bernama Jun Naruse.
Dia adalah seorang gadis yang dikenal sebagai tukang celoteh, selalu mengungkapkan apa pun yang ada di benaknya.
Dia juga selalu bermimpi untuk dapat diundang ke sebuah kastil yang ada di atas gunung, yang sebenarnya merupakan hotel esek-esek.
Suatu hari, ketika dia datang ke hotel tersebut, dia melihat ayahnya bersama seorang wanita lain baru saja keluar dari hotel tersebut. Dia kemudian menceritakan hal tersebut kepada ibunya, dan akibatnya kedua orang tuanya bercerai.
Perceraian orang tuanya membuat Jun sedih. Saat dia menangis, sebuah telur peri muncul dan menutup rapat mulutnya, mengunci kemampuan berbicaranya sehingga dia tidak bisa lagi melukai orang lain dengan kata-katanya.
Kokoro ga Sakebitagatterunda. Subtitle Indonesia
Kokoro ga Sakebitagatterunda. Batch Sub Indo
Kokoro ga Sakebitagatterunda. BD
Kokoro ga Sakebitagatterunda. BD Sub Indo
Kokoro ga Sakebitagatterunda. Complete